OUTDOOR FURNITURE COVERS
Your perfect partner for the outdoors!
Our high quality furniture covers provide superior protection for your outdoor furniture.  Designed in Australia, Polytuf covers block UV rays, rain, bird droppings, dirt and debris. Spend more time enjoying your outdoor furniture and less time cleaning it.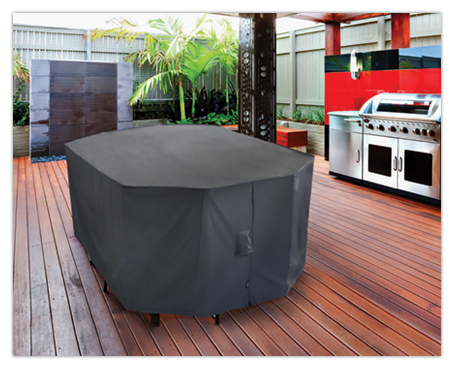 USAGE INFORMATION
IMPORTANT:
Condensation and moisture naturally occur where airflow is limited. Condensation can lead to mould and as a result can cause damage to your furniture.
To reduce condensation and the risk of moisture build up and mould:
Remove cover from your furniture periodically, allowing air to circulate and to avoid the build-up of condensation between your furniture and cover. Always check with your furniture manufacturer to confirm what effect condensation will have on your setting
Use a Polytuf® table cover support pole in the centre of your table to create an air gap between the cover and the table
Read all instructions included with your cover carefully before use